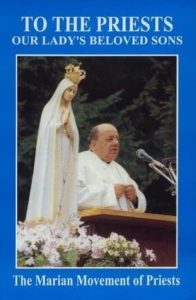 The Rosary Cenacle Prayer Group
'Cenacle' is the word used for the 'Upper Room' where Jesus' apostles gathered together in prayer with his Mother Mary, and the Holy Spirit powerfully descended upon them. It was during this original Pentecost that the Catholic Church was born. Two thousand years later, Our Lady renews the call to gather together with her in the cenacle of prayer in anticipation of the Holy Spirit. 
"Just as in the Cenacle of Jerusalem the Apostles, reunited with me in prayer, prepared for the moment of the first Pentecost, so also, in the cenacle of my Immaculate Heart – and consequently in the cenacles where you are gathered in prayer – you apostles of these last times can, with your heavenly Mother, obtain a new effusion of the Holy Spirit." (288p, Jan. 28, 1988)
Format of the meeting:
Invocation to the Holy Spirit

Recitation of the Holy Rosary

Prayers for our Holy Father, the Pope

Reading and meditation on one or more of the messages given in the Book: "To the Priests Our Lady's Beloved Sons"

The Act of Consecration to the Immaculate Heart of Mary
The prayer meeting is held in the Main Church after the 10am Thursday Mass. We pray especially for our priests, the Pope, and for our families. The duration of the meeting is roughly 35 mins to 45 mins max. All are very welcome.
Contact Bronwyn if you are interested: Contact Form 
For more information, have a look at the Marian Movement of Priests