---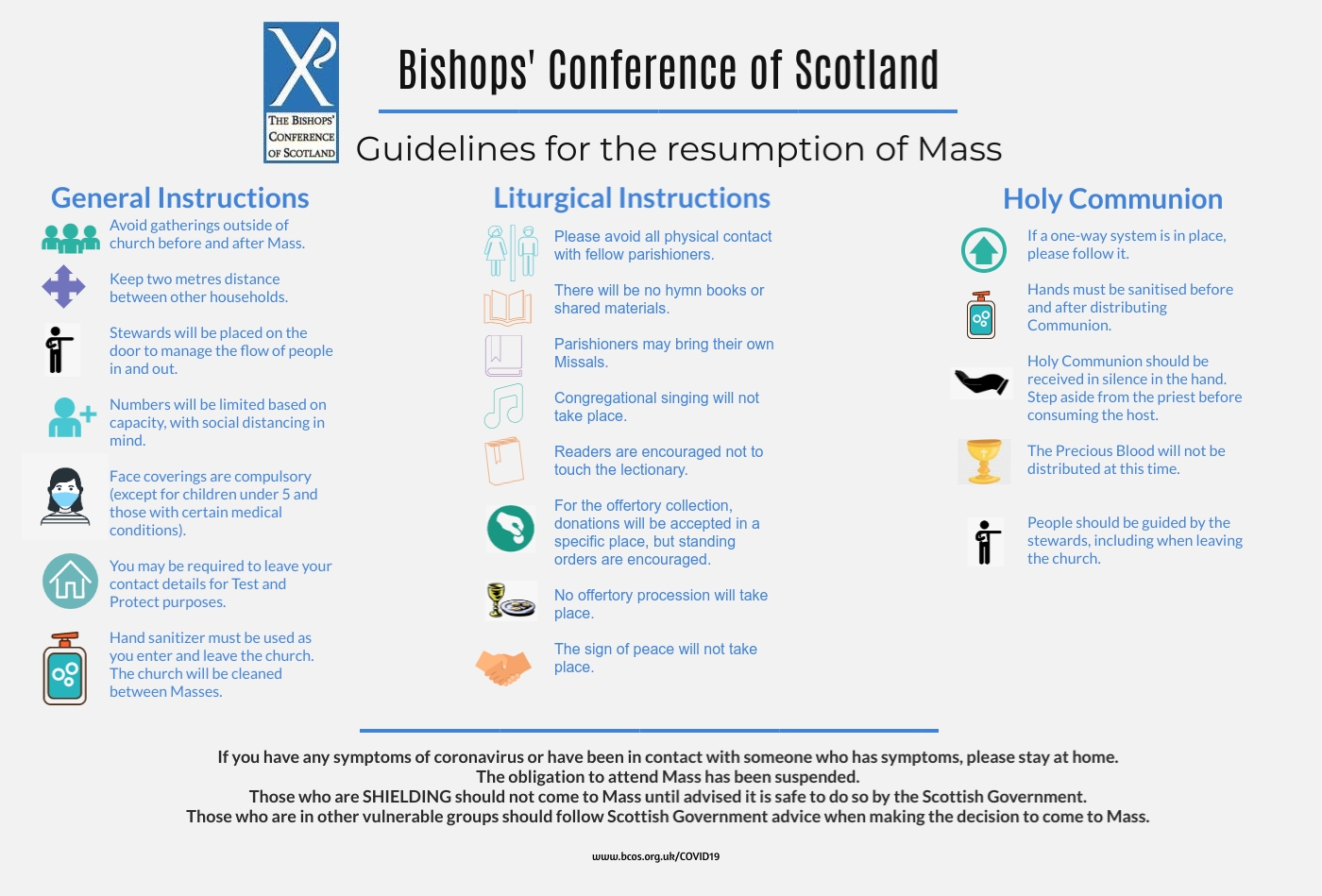 The image above is from the Bishops Conference, our main points from it are below.
Guidelines for coming to Mass at Trinity Westhill 
It will be a good idea to arrive about 10-15 minutes early for Mass so we can get you seated without a rush.
Stewards will be on hand to help and direct you to your seat.
When you arrive at Trinity, you will have to come in via the front door only, and go straight into the Church, and for leaving at the end, we will use the emergency exit door at the left side of the sanctuary area to exit.
Please wear a face covering (Except for under 5s and those with medical conditions which prevent them from wearing Masks)
The First Minister has clarified that "based on scientific advice the Scottish government is not convinced that face visors provide sufficient protection. As a result, from Saturday 8 August, if a visor is worn it must be accompanied by another type of face covering."
Sanitise your hands as you enter and leave (stations are provided at the entrance and exit of the church)
Keep to the Physical Distancing requirements(2 metres).
Limited singing can now occur, but we won't have Newsletter sheets or Hymnals, but please do bring your own Missal or Missalette if you have one.
As the Bishop has asked us to make reasonable efforts to shorten Mass, we won't have intercessions or an offertory procession, and we will use the Apostles Creed. 
The guidance also asks that we omit the sign of peace.
In place of an offertory collection, I will put baskets at the entrance and exit for those who want to make an offertory contribution.
For Holy Communion, I will come to you in your pew/seating area to distribute the Host.
After the final Blessing, please leave by the exit door observing the 2 metre distancing.