I don't like to talk too much about myself, even if I like to talk!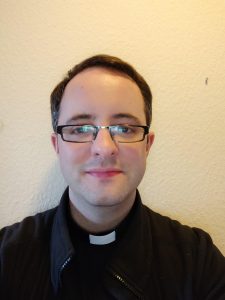 My name is Fr Emmet and I am the parish priest  of the Westhill Parish
I moved to these parts from Ireland in 2003 to go to University (RGU to be precise, back when much of RGU was still at Schoolhill) and I spent four good years here in the city.
After that, I moved to the Highlands to work, and it was there I heard God's call and entered the seminary to train as a Diocesan Priest for this Diocese of Aberdeen.
I was then sent to Rome, to the Scots College, to study for the Priesthood, and two years ago I was ordained for this diocese by Bishop Hugh at St Mary's Cathedral and subsequently appointed curate to the Cathedral before being appointed Parish Priest here in August 2020.
I am also the Chaplain to the Universities, and live in Old Aberdeen.
In addition, I am the Hospital Chaplain to the various Hospitals in the city, so if you know of anyone in Hospital please let me know.
I look forward to seeing you all at Mass and on other occasions too.
God Bless,
Fr Emmet